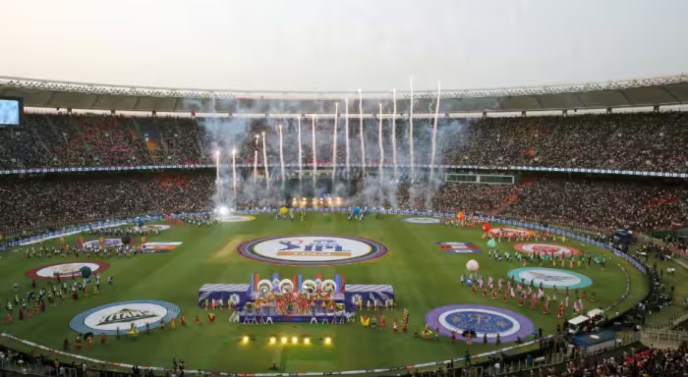 The much-anticipated Indian Premier League (IPL) 2023 final is just around the corner, and the organizers have pulled out all the stops to ensure a star-studded lineup for the summit clash at the Narendra Modi Stadium in Ahmedabad on Sunday. The Chennai Super Kings (CSK) have already secured their spot in the final after a convincing victory over the Gujarat Titans in Qualifier 1. However, the defending champions, the Gujarat Titans, will have another opportunity to make their way to the final as they take on the Mumbai Indians (MI) in Qualifier 2.
IPL's official Twitter account recently announced the exciting news that popular rapper King and DJ Nucleya will be the star attractions at the IPL 2023 final. They will be joined by renowned singers Divine and Jonita Gandhi, promising a night filled with power-packed performances. This lineup of talented artists is sure to add to the excitement and entertainment of the final match.
Only two teams in IPL history have managed to clinch the title two times in a row, and while the Chennai Super Kings have already secured their place in the summit clash, the Mumbai Indians will battle it out against the Gujarat Titans in Qualifier 2. This crucial match will determine the second finalist of IPL 2023.
Gujarat Titans' journey to reach the final now heads to Ahmedabad, where they will face the formidable Mumbai Indians led by Rohit Sharma. The Titans, who topped the league stage, did not exhibit their best form against the Chennai Super Kings, raising some doubts about their best playing XI. Getting the team composition wrong during the playoffs can prove costly for any side.
While the Titans boast an impressive bowling lineup, including the top two wicket-takers of the season, their batting order currently lacks the same clarity and consistency. It is crucial for them to assess whether Dasun Shanaka's contributions are sufficient and to ensure that Vijay Shankar is given the opportunity to bat when he can have the most significant impact. Additionally, finding a way for Hardik Pandya to maximize his batting abilities will be vital for the Titans' success.
Despite a minor setback in their recent match against the Chennai Super Kings, the Titans will be eager to regain their incredible form and turn things around as they return to their home ground. Throughout the tournament, they have faced the Mumbai Indians twice, with each team securing a victory on their home turf.
In conclusion, the IPL 2023 closing ceremony promises to be a spectacular event with an outstanding lineup of performers. As the Chennai Super Kings await their challengers, cricket fans and enthusiasts can look forward to a thrilling finale to the IPL season.