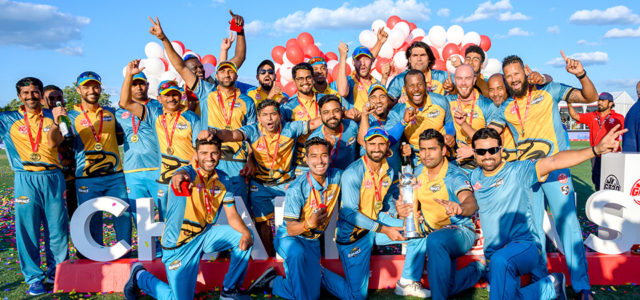 If you are a fan of cricket, you will be happy to know that Global T20 Canada is back for its third edition. The tournament, which features six teams of international and domestic players, will take place from July 20 to August 6 in Brampton Sports Park. The event promises to deliver exciting and competitive matches, as well as showcase the talent and diversity of Canadian cricket.
Global T20 Canada was launched in 2018 as the first professional Twenty20 cricket league in North America. The inaugural edition was won by Vancouver Knights, led by West Indies legend Chris Gayle. The second edition in 2019 saw Winnipeg Hawks clinch the title in a thrilling Super Over against Brampton Wolves. The tournament's upcoming editions were postponed due to the COVID-19 pandemic, but the organizers are confident that the 2023 edition will be a success.
The Global T20 Canada, the first professional cricket league in North America, is set to return in 2023 after a two-year hiatus due to the COVID-19 pandemic. The league, which was launched in 2018, features six teams representing different regions of Canada and attracts some of the best players from around the world. The tournament aims to promote the growth of cricket in Canada and provide a platform for emerging talent to showcase their skills.
The Global T20 Canada has been a success story for Canadian cricket, as it has generated interest and excitement among fans and players alike. The league has also helped to develop the national team, as several Canadian players have been selected for international tournaments after impressing in the Global T20 Canada. Some of the notable names who have played in the league include Chris Gayle, Andre Russell, Steve Smith, David Warner, Shahid Afridi and Yuvraj Singh.
The Global T20 Canada is a great opportunity for cricket lovers to witness some high-quality action and entertainment. The league is also a boon for the local economy, as it creates jobs and boosts tourism. The Global T20 Canada is back in 2023 and it promises to be bigger and better than ever.
If you are looking for a fun and thrilling way to spend your summer, don't miss Global T20 Canada. You can follow the action on social media using the hashtag #GT20Canada. You can also buy tickets online or at the venue. Come and witness the best of cricket in Canada!