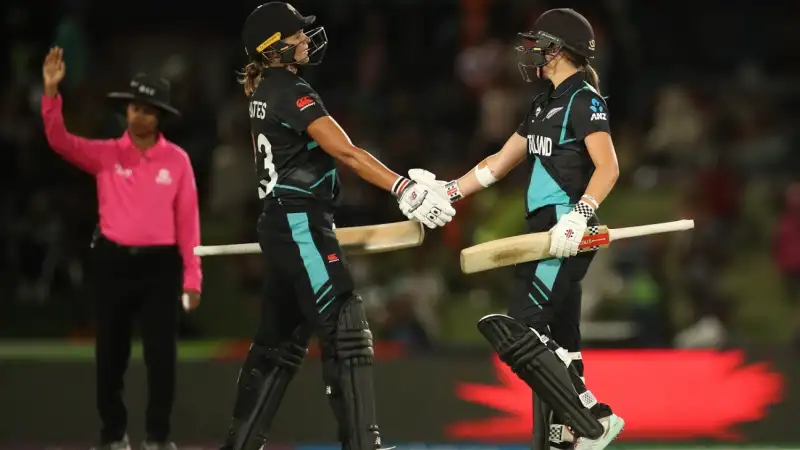 In an exciting development for cricket fans, the New Zealand women's cricket team is all set to embark on a tour of Sri Lanka for a thrilling three-match One Day International (ODI) series. The upcoming tour is a significant part of the ICC Women's Championship 2022-2025 cycle, adding an extra layer of competitiveness to the matches. Currently, the visiting team holds the third position on the points table, while the Chamari Athapaththu-led Sri Lankan side sits in seventh place. With the potential to climb up the rankings, the home team has a great opportunity to secure a higher standing by sweeping the series.
Following the ODI series, the two teams will continue their battle in a gripping T20I series, scheduled to commence on July 8. The adrenaline-fueled contest promises to be a spectacle for cricket enthusiasts, as both teams strive to display their skills and claim victory on the pitch.
All three matches of the ODI series will take place at the esteemed Galle International Cricket Stadium, known for its rich cricketing history and picturesque surroundings. On the other hand, the P. Sara Oval in Colombo will host all three T20Is, offering a different atmosphere for the players and fans alike. With the home ground advantage, the ODI series serves as the perfect platform for the Sri Lankan team to inch closer to their ultimate goal.
Adding to the excitement surrounding the tour, Sri Lanka's skipper, Chamari Athapaththu, has achieved a significant feat in the T20I player rankings. Her remarkable consistency in the shortest format of the game propelled her to the ninth position in the ICC women's T20I player rankings. Athapaththu's stellar performance in the home series against Bangladesh proved instrumental in her rise in the rankings. Across three innings, she contributed a total of 103 runs, enabling her team to secure a series victory with a 2-1 scoreline.
Joining her captain in the spotlight, Harshitha Samarawickrama showcased her talent and climbed an impressive 12 spots on the batting rankings. Samarawickrama's remarkable series-best innings of 125 runs against Bangladesh contributed to her career-high rating, propelling her to the 27th spot. This commendable performance reflects the team's overall strength and the promising future of Sri Lankan women's cricket.
In the T20I series, Sri Lanka's bowling unit demonstrated their prowess, with left-arm spinner Inoka Ranaweera making significant strides in the rankings. Ranaweera's exceptional bowling skills propelled her five spots higher in the ranking chart, solidifying Sri Lanka's bowling attack.
As the tour dates draw near, cricket fans around the world eagerly await the intense clashes between New Zealand and Sri Lanka. With each match holding immense significance for both teams, this series promises to be a captivating display of skill, determination, and sportsmanship. Mark your calendars for an unforgettable cricketing extravaganza as these two teams battle it out in the quest for victory.
Match Schedule for New Zealand Women vs Sri Lanka Women:
27th June – 1st ODI – Galle International Cricket Stadium, Galle
30th June – 2nd ODI – Galle International Cricket Stadium, Galle
3rd July – 3rd ODI – Galle International Cricket Stadium, Galle
8th July – 1st T20I – P. Sara Oval, Colombo
10th July – 2nd T20I – P. Sara Oval, Colombo
12th July – 3rd T20I – P. Sara Oval, Colombo
Also, see:
Watch: Pakistan Fast Bowler Hasan Ali Stuns with Hat-Trick in English County Season